2020 has been…'interesting' as the British like to say. It's been a damn tough year, but our community found a way through – and we're proud of their achievements.
So in our traditional custom, here are twelve '2020 stories' from our little corner of the universe.
But before we start…click on the image below 👇
Yes, we have a new brand. Huge shout out to Vinay – our Head of Brand & Content – for making it happen. Our position has always been that venture funds don't truly leverage brand, yet it can be a key asset for finding the best talent beyond the venture bubble. So we fully intend to keep building ours.
---

1.
Hutch Games was acquired for $375m (with further upside potential). This is our third and largest exit in the entertainment industry in 2 years (Gumbug acquired by Voodoo ; JukeDeck acquired by Bytedance). So it's a special moment in our journey. What makes it even better is that Shaun Rutland and the Hutch gang are one of the most down-to-earth, kind and empathetic founding teams we've ever worked with. They cultivated a world-class working culture at Hutch. You can read Alex's reflections from sharing the road with him here.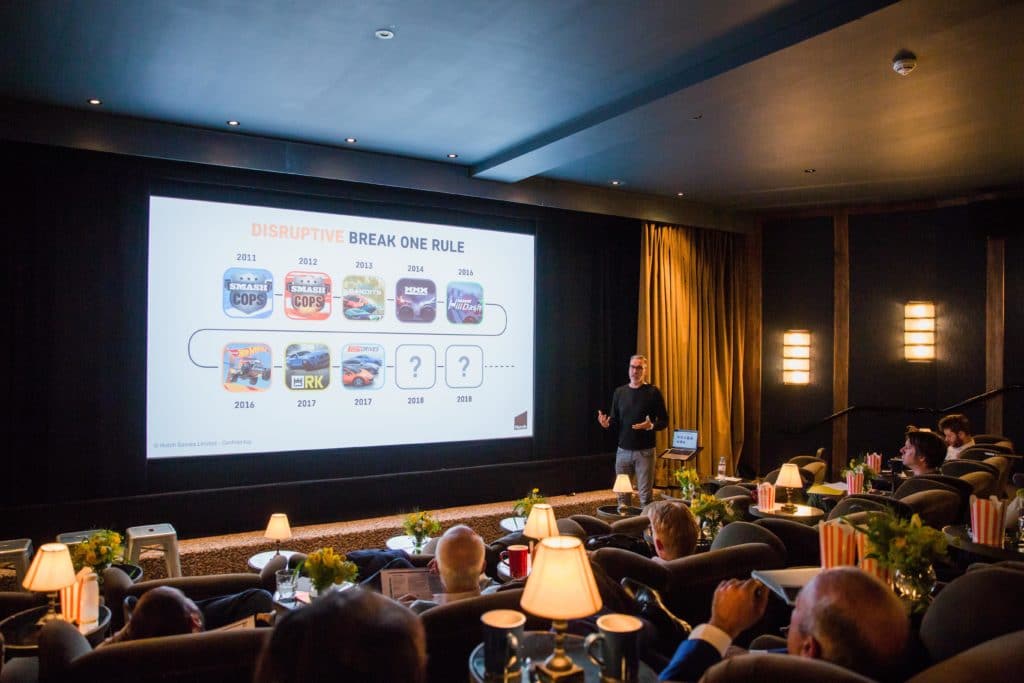 2.
Harbr raised a $38.5m Series A round from Dawn Capital and Tiger Global. Following Snowflake's IPO in 2020 (current market cap $90bn), the world has woken up to the importance of such data platforms. We first backed Gary and Anthony in 2018 and we think they have the potential to be as significant as Snowflake in the coming years.



3.
LabGenius raised a $15m Series A extension, led by Atomico. Their total Series A now sits at $25m and includes the expertise of Grade A US investors like Lux Capital and Obvious Ventures. We were the first money committed at Seed, based on our thesis that greater lab automation, ML capabilities and 'biology as engineering' is sparking a revolution in healthcare. The potential of LabGenius's platform to develop novel proteins that have never been seen before in nature – yet can successfully target specifics diseases – is now clear.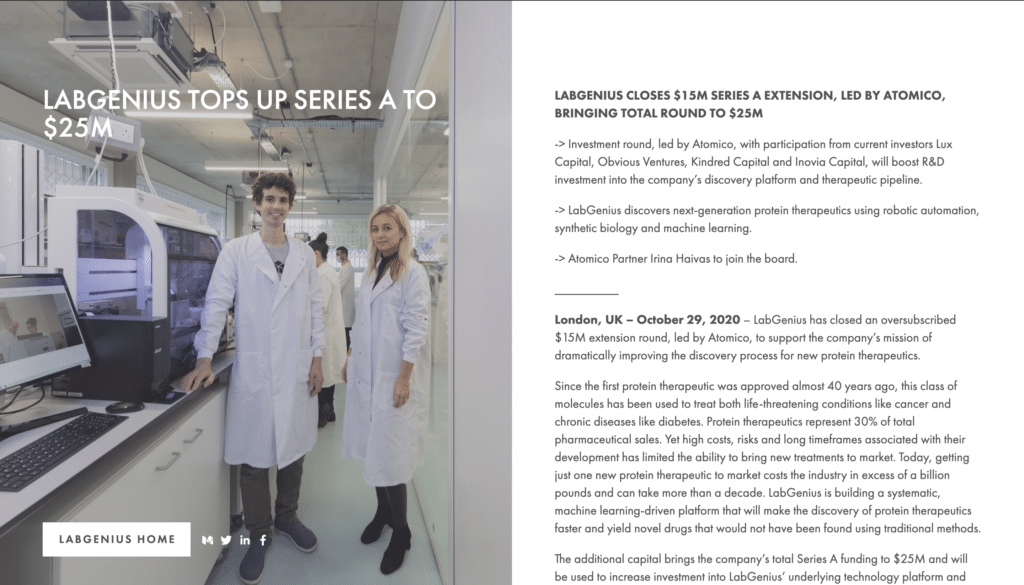 4.
THIS completed a record-breaking $5m crowdfunding campaign. Their meat alternatives are now stocked in major UK supermarket retailers like Sainsbury's, Tesco and many restaurant chains. We invested in late 2019, on the thesis that sustainably-sourced, ecologically sound food sources are vital to the 21st century – especially in the meat sector. The company has grown 10x in 12 months and we're in awe of their phenomenal pace of new product development. Check out their Instagram page to feel the full force of Andy and Pete's marketing magic. But even better, try their products.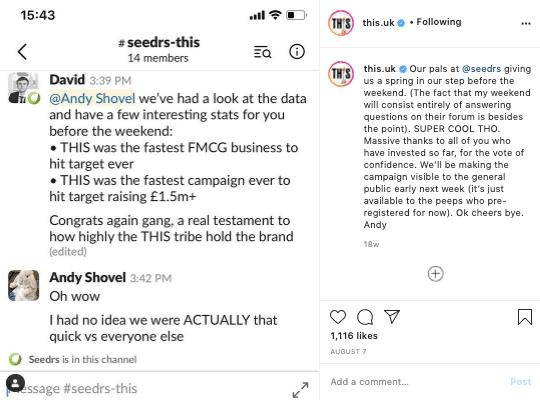 5.
Thought Machine raised a $125m Series B round led by Draper Esprit. Their cloud native core banking platform, Vault, enables banks to move away from the legacy IT platforms that plague the industry. The company is growing quickly: customers already include Lloyds Banking Group, SEB and Standard Chartered, and we expect the business to achieve a 9-figure ARR run rate within the next 24 months.



6.
Medal raised their $15m Series B from Makers Fund and Horizons Ventures. We believe that one day they will become the video-based social network of the gaming world with 1m daily active users across their platforms already.



7.
BACKED also welcomed several new companies into our constellation:
1. Ochre-Bio. Jack, Quin and their team are developing revolutionary medicines to rejuvenate transplant livers, many of which are currently unusable due to their fat content. (co-invest with Khosla Ventures and Apollo Health Ventures).
2. CoMind. James and his team are developing next-generation, non-invasive brain computer interfaces.
3. Jelly. Physicist-turned-banker-turned-chef, JJ, is transforming how restaurants manage inventory, pricing and food ordering – making #ChefLife easier. (co-invest with Seedcamp and System.One)
4. We also invested in three very exciting companies that are currently unannounced. They operate in the following spaces: optimisation technology, biotech and hospitality tech. We can't wait to tell you more about them in 2021. We know, we know. What a tease…



8.
As with so many of you, COVID-19 forced us to rethink how we serve our customers. Within one week of the government mandated lockdown in March 2020, Sonia (Head of Founder Experience) launched a fully remote founder support offering including a weekly portfolio newsletter, direct access to experts like COADEC and troubleshooting sessions on everything from people management to cash preservation to mindful productivity at home.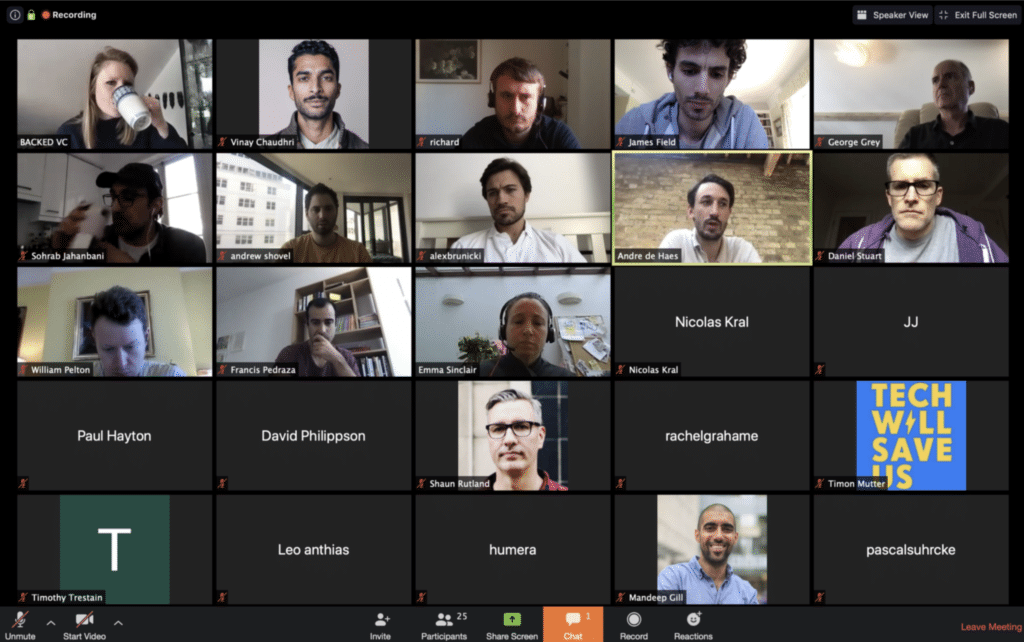 9.
Since then we've also launched a portfolio-wide Series A Fundraising Programme and Financial Service Offering to support companies with budgeting and best practice financial management. Rachel, our Manager of Firm Operations is also increasingly working with Sonia on post-investment support, where she's focusing helping our companies build strong, sustainable and scalable organisational cultures. You can read her work on organisational values here.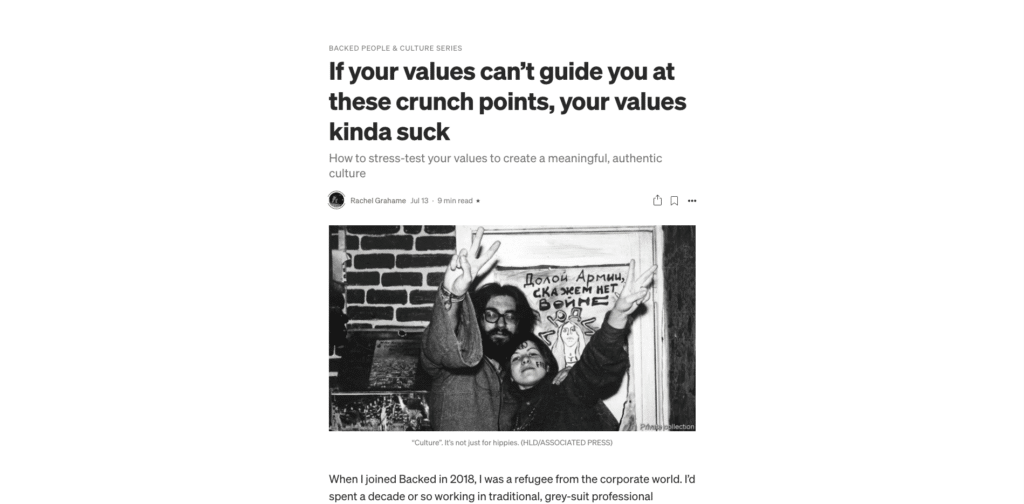 10.
This summer we started tracking DE&I metrics across all of our deal flow – throughout the funnel. This gets reported on a weekly basis. You can read more about the measures we've taken to be a more inclusive player within the European venture ecosystem here. This will continue to be a focus for us in 2021 and beyond. We hope it is for you too.



11.
Daisy (Head of Networks & Community) has further expanded and evolved the BACKED Venture Community (a.k.a Scouts). It now counts over 50 members, repping major European tech hubs including Amsterdam, Lisbon, London and Berlin. Significantly, this year we made two investments directly from this network (both unannounced!) – a major validation of the community's ability to deliver deal flow, knowledge sharing and belonging simultaneously. Q4 2020 alone saw these beautiful people joining us…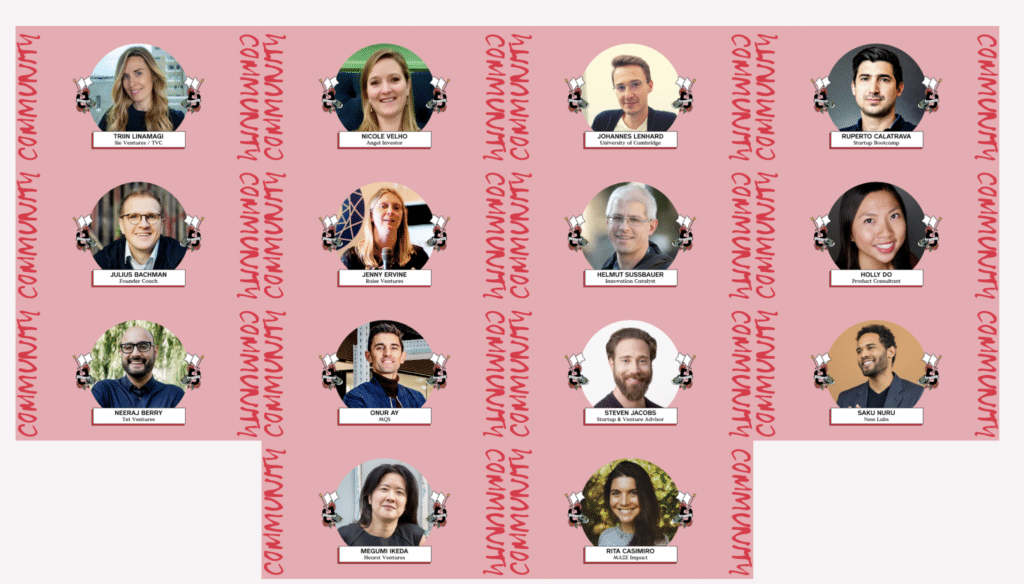 12.
Even closer to home, we welcomed Pascal Suhrcke to our investment team, where he quickly incited rumours about whether he's actually an AI because of his ridiculously impressive processing powers (the jury's still out). He has been instrumental in sourcing and closing a number of deals this year, as well as working closely with several BACKED founders. We also asked Dom Barnard to join us as Finance Manager and we now have the nicest man in venture amongst our ranks.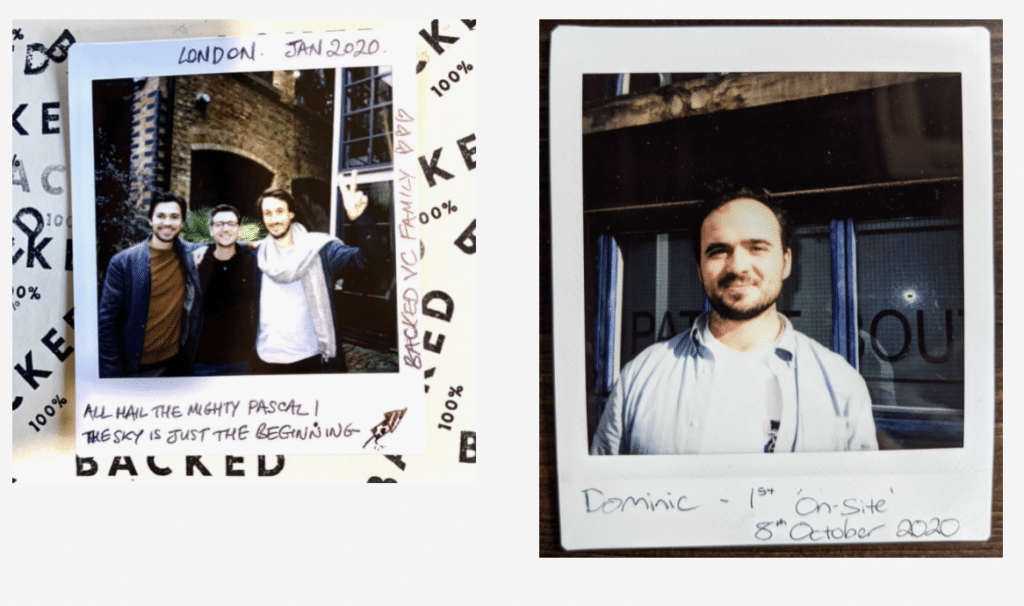 That's all for now. We don't know what the future holds, but we do know this: the journey will be infinitely better with friends.
We wish you a happy and healthy 2021.
Andre, Alex, Daisy, Dom, Pascal, Sonia, Rachel & Vinay x